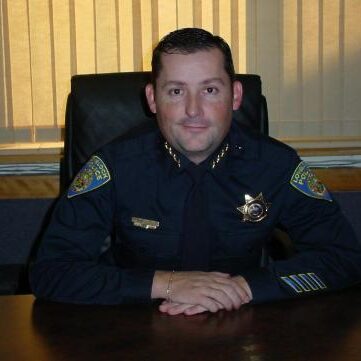 Chief Michael J Mancebo was appointed on January 25, 1999. Chief Mancebo was 30 years old at the time of his appointment and was the youngest Police Chief in Nevada.  Prior to becoming the Chief of Police, Chief Mancebo was with the Pershing County Sheriff's Office.  Chief Mancebo spent 7 years with the Sheriff's Office where he was a Sergeant and K-9 handler.  Chief Mancebo and his partner Buster continued to work as a Narcotics Detection Team when they came to the city.
Chief Mancebo is a member of the International Association of Chiefs of Police (IACP) along with being a member and past president of the Nevada Sheriff's and Chief's Association.  Chief Mancebo also volunteers his time with several service organizations both locally and statewide.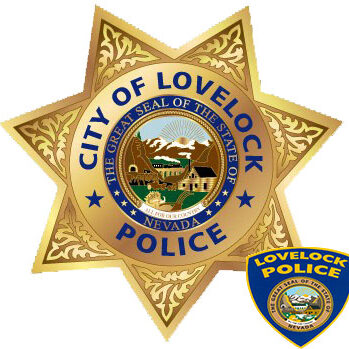 MISSION STATEMENT
The Mission of the Lovelock Police Department is to enforce the laws and ordinances of the City, County and State, safeguard life and property, prevent and detect crime, preserve the peace, and protect the rights of all citizens.
Integrity We uphold the public trust by being honest. We maintain the highest standards of ethical and moral character.
Fairness We treat everyone with respect and dignity in an unbiased manner. We protect constitutional rights through impartial enforcement of the law.
Service We provide dedicated and compassionate assistance by promoting leadership, cooperation, and creativity. We aspire to improve the quality of life in partnership with the community.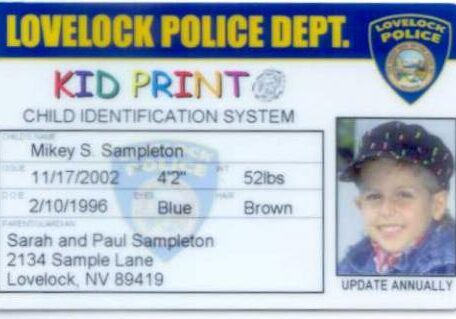 The Lovelock Police Department uses the KID PRINT Child Identification System. This system creates a credit card type identification card for your child, which shows in an instant your child's picture, name, height, weight, eye and hair color, date of birth, who the parent or guardian is and on the back of the card is their right thumbprint. This information can be invaluable if your son or daughter is missing as time is of the essence in locating them.
The KID PRINT system was obtained through a grant from the Nevada Department of Public Safety/Criminal Justice Assistance and the ID cards will be provided to the public at no charge. The information you provide to the Police Department will create an ID card for you to keep and will be maintained in a non-criminal database with your child's vital information in it for use in case of an emergency.
If you have any questions or concerns regarding this program, please feel free to contact the police department.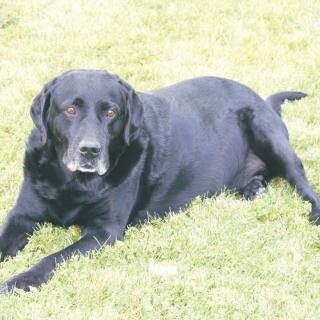 Buster had a long and distinguished Career in Law Enforcement, both with the Pershing County Sheriff's Office and the Lovelock Police Department working as a Narcotics Canine Officer.
The Pershing County Sheriff's Office obtained Buster from the Cedar Homes Kennel in Stanwood, Washington, where Buster was trained in narcotics detection. Buster began his career with the Sheriff's Office in May 1996 with his partner Kenji Okuma. Buster made a significant drug bust while he was with Okuma in June of 1996 when he discovered 87 pounds of marijuana.
In June of 1997 while still working for the Pershing County Sheriff's Office Buster got a new partner, Sergeant Michael Mancebo. Buster and Sgt. Mancebo returned to Stanwood, Washington where Sgt. Mancebo received his training. Buster and Sgt. Mancebo worked with the Sheriff's Office until Sgt. Mancebo was appointed to be the Chief of Police for the City ofLovelock in January 1999.
Buster and Chief Mancebo were working for the Police Department when Buster discovered another significant amount of Marijuana, 12 pounds 9 ounces in a vehicle coming into Lovelock.
Buster retired in 2005 due to health reasons. However, he still went to work with Chief Mancebo and patrolledCity Hall. Sadly, after over a year of health problems Buster died on April 13, 2006.
During Buster's career, he worked with many other law enforcement agencies, which include the Nevada Highway Patrol, Nevada Department of Parole and Probation, the Humboldt/Pershing Narcotics Task Force and the Nevada Department of Prisons.